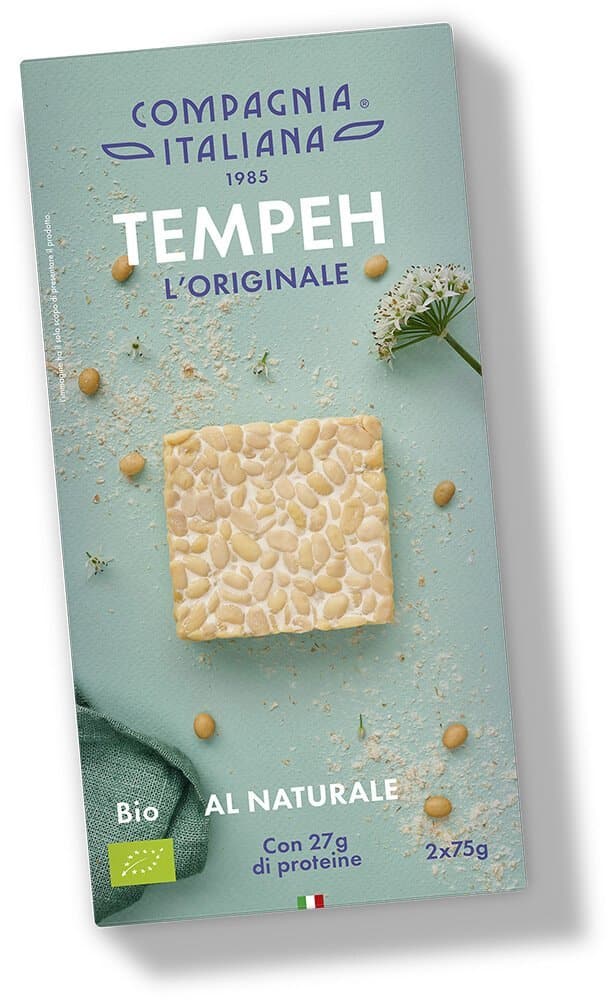 Plant-based ingredients
Tempeh. The original
Tempeh is a delicacy among soy products: it is known for its high digestibility thanks to the long fermentation and is naturally rich in protein and vitamin b12. Our tempeh has a smooth taste, with notes of soy and delicate hints of nuts and mushrooms. A true superfood and a versatile ingredient. Perfect for your veggie bowls, salads, or stir-fries, it adds a tasty twist to your sauces, stews, mousses, and creams. Selected ingredients, artisanal wisdom, respect for its times. Hulled soybeans from our local supply chain, also organic.
Tempeh is good for you and sustainable for the planet.
The packaging is FSC certified because it is made with sustainable materials that come from responsibly managed forests.
Check out our recipes with tempeh!
Nutritional values for
100g
ENERGY
719KJ
172Kcal
FATS
6,9g
OF WHICH SATURATED FATS
0,9g
OF WHICH TRANS FATS
0,0g
CARBOHYDRATES
7,9g
OF WHICH SUGARS
0,0g
FIBERS
2,8g
PROTEIN
18g
SALT
<0.01g